First about the next major version - purchases since Sept 1, '14 until release shall be within the grace period for receiving this upgrade free. The plan is to incorporate samples and images into the signal processing.
Patch update 1.6
New "Reference Samples" tutorial
Improved pitch tracking on samples
Folder navigation features in Preset browser
Deformer feature: random phase offset
Cycle "About" window
18 new presets
Bugfixes:
Fixed when an envelope had a component deformer curve, it's gain was unsaved.
Fixed Windows 0xc0000142 error on AMD cpus.
Fixed after loading reference sample, phase spectrogram sometimes blank.
Fixed when loading a new sample while one playing back could cause crash.
Preset/sample browser now shows displays files of all supported sample formats (wav, ogg, flac, aif[f]).
Swipe pitch tracking algorithm inaccuracies for low pitches fixed.
Pitch envelope visualization more accurate in waveform surface.
Audio samples at different samplerates now play back properly.
Deformer feature: random phase offset
This is a solution to a sound design problem: how to create sounds where there's a lot of unisoned voices
each having their own irregular pitch envelope? For example a choir or ensemble of brass or string instruments.
Normal unison is not good enough, even when added with a warbly pitch envelope - that only sounds like an old VHS tape!
So among its other uses, with this feature you can use a meandering deformer curve as the looping part
of the pitch envelope, turn up the phase randomness value, and then the irregular curve will be randomly
offset (sideways) for each unison voice making a thick sound without the phasing artifacts. This is the effect visualized, basic unison on the right: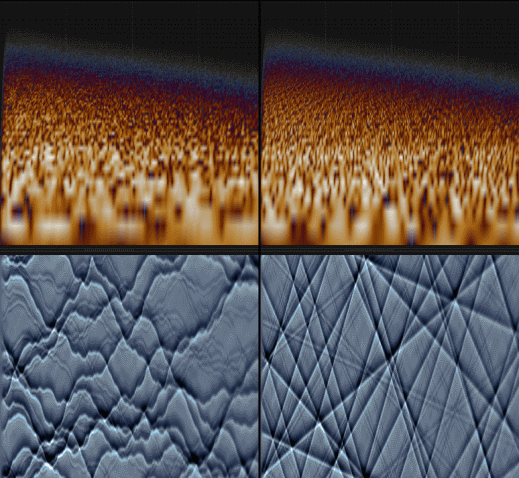 Some presets using this feature:
brass chords
and
choir
.
The random seed is unique in each unison voice and midi note, so each note of a chord will be different. This feature can also be used on the scratch envelope in pads for a nice fluttery effect.
Improved pitch tracking on samples
A new post-processing step helps the tracking accuracy quite a bit, so you need to do less work fixing the pitch envelope.
This is it quite precisely following the vibrato of a cello sample: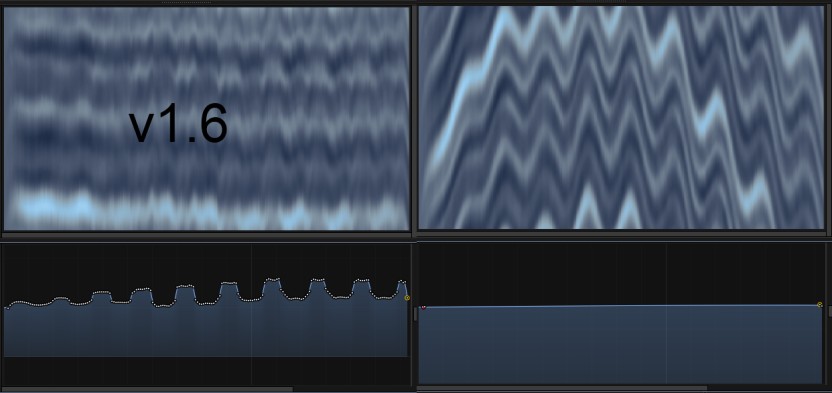 Folder navigation features in Preset browser
Added features to the Preset Browser helps navigate for samples within Cycle, avoiding the need to choose samples
from a dialog window each time.