Important: I patched the wrong OSX demo installer to the server - was the 1.4 version, as of 5pm ADT Sept. 15 it will be the v1.5. The download page should say it's a recent file too.
Sincere apologies for being absent - addressing financial "challenges" we'll say. However Cycle development will continue regardless, so fear not :-)
Speaking of which, new in v1.5:
Convolution reverb.
In-app tutorial framework.
Improved noise sound quality.
Impulse Modeller effect has new zero-latency processing.
20 General-purpose automatable modulation sources.
More deformer targets.
Memory leak and several bugs fixed.
Convolution Reverb
Replacing the stock reverb effect (Freeverb) is a proprietary convolution reverb.
By creating room impulses algorithmically, this effect has the smooth, non-metallic sound
you expect from a convolution reverb, but with common reverb controls: room size,
dampening, stereo spread, and high-pass filtering.
Listen to a
sample
.
Tutorial Framework
Cycle is a complex beast so instructive content can always be helpful. To that end
a powerful XML-based tutorial framework is in place to guide users with sound design
and with the different parts of the synth.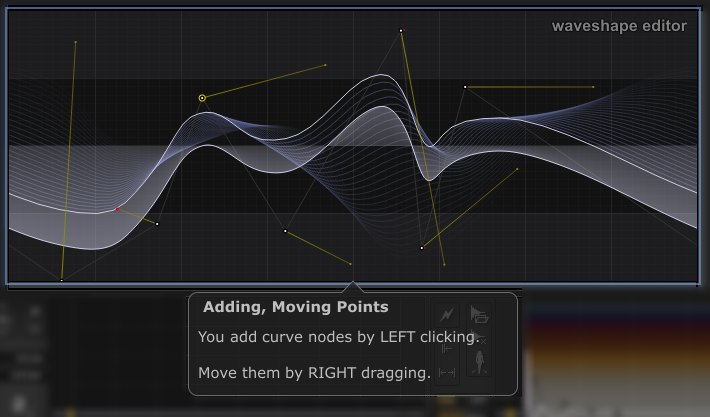 A tutorial for our purposes is a step-by-step guide. At each step, a dialog box
points to some area of the user interface. Each step can require conditions to be met before
moving on, and it can perform one or many pre-set editing actions.
Essentially all functions in Cycle can be controlled by a tutorial file, for example
playing notes, adding points, moving points, adding layers, changing modes, etc.
An included tutorial "Sound Design: Epiano" walks the user through every step of creating a
particular preset, with each step performing all the actions needed. Future tutorials will be
distributed using this framework.
Sound quality improvements
In presets where spectral noise is involved (e.g. in preset "BaroqueFlute") there were
some phasing artifacts with the noise. This is fixed.
A case is now fixed where oversampled waveshapes would not de-click correctly.
Impulse Modeller Latency
Using a new convolution algorithm (shared by the reverb), the Impulse Modeller
is now zero-latency rather than the 512 samples latency of v1.4.
More Deformer Targets
Vertex paths along Red and Blue morphing ranges can be deformed in v1.5.
A simple example is making a spectral peak hit a certain harmonic across the key-scale range:
this requires an exponential curve, which now can be done using a deformer curve instead
of many line segments -- here's a visual comparison:

Envelopes now allow deformer assignments:

The combination of these two changes means envelopes can have a more natural response
to velocity -- the length of the decay curve can extend exponentially as velocity increases, just as you would expect in real life.
Mod Matrix Utility Parameters
Some hosts do not readily allow the automation of MIDI CCs, so a set of 20 utility
parameters is now part of the Mod Matrix to act as automatable modulation sources.